Future Leaders Program (Graduate Program) - Finance (m/f/d), Hygiene
Our brands move markets. Behind the brands are strong personalities with a clear goal: to make the lives of millions of people happier and healthier. Now we're looking for reinforcements. Ready for the most exciting career of your life?
 
Future Leaders Program (Graduate Program) - Finance (m/f/d), Hygiene 
Heidelberg, Baden-Wuerttemberg 
Competitive Salary & excellent benefits package 
Start: 15.09.2023
 
Be responsible for the achievement of our business results from day one. As a Junior Controller (m/f/d) at Reckitt, you will constantly deal with new and challenging situations and have all the freedom to take your career into your own hands. In the two-year graduate program, you will get to know our business and rotate between different areas of controlling.
 
You'll succeed because… 
... you've a foundation in accounting or financial analysis.
... no goal is too far for you. You solve challenges on your way as part of an agile, diverse and multinational team.
... you prefer to do rather than talk. You make decisions based on an analytical and solution-oriented way of thinking. When in doubt, trust your healthy pragmatism.
... a bachelor's or master's degree adorns your academic career and you have some initial professional experience. You share your opinion in fluent English, German is an advantage.

 
You'll love it because… 
... working independently is fun and you learn from the best: direct contact with management ensures a steep learning curve.
... sustainability is part of our culture: every day we develop innovative solutions that allow us to live healthier and happier lives. The careful use of limited resources is a matter of course for us.
... Heidelberg is known worldwide for its high quality of life. In addition, our modern office and numerous extra services ensure a smooth start.
Do you love consumer goods and are you interested in the most exciting career of your life? Then apply online now. If you have any questions, please contact us at karriere@rb.com.
Welcome to the team!
Equality
At Reckitt, we recognise that in real life, great people don't always 'tick all the boxes'. That's why we hire for potential as well as experience. Even if you don't meet every point on the job description, if this role and our company feels like a good fit for you, we still want to hear from you.  Come and join a team whose purpose is to protect, heal and nurture in the relentless pursuit of a cleaner and healthier world.All qualified applicants to Reckitt will receive consideration for employment without regard to age, disability or medical condition; colour, ethnicity, race, citizenship, and national origin; religion, faith; pregnancy, family status and caring responsibilities; sexual orientation; sex, gender identity, gender expression, and transgender identity; protected veteran status; size or any other basis protected by appropriate law.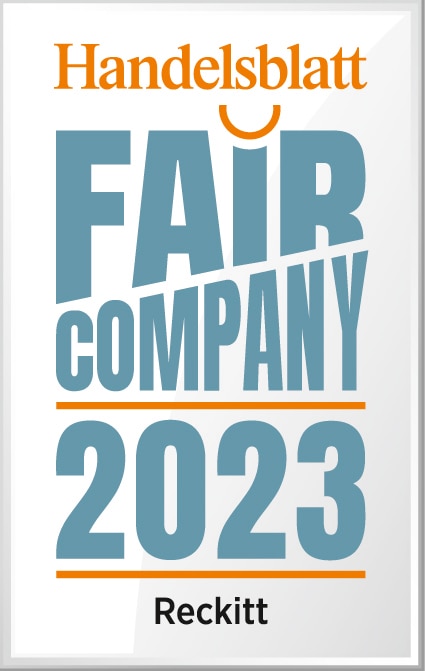 Apply now »