Future Leaders Program - Sales & Marketing (m/f/d), Hygiene
Unsere Marken bewegen Märkte. Hinter den Marken stehen starke Persönlichkeiten mit einem klaren Ziel: das Leben von Millionen von Menschen glücklicher und gesünder zu gestalten. Jetzt suchen wir Verstärkung. Bereit für die spannendste Karriere Deines Lebens?
Future Leaders Program - Sales & Marketing (m/f/d), Hygiene
Heidelberg, Baden-Wuerttemberg

Sei vom ersten Tag an für die Erreichung von unseren Geschäftsergebnissen mitverantwortlich. Als Junior Manager (m/w/d) bei Reckitt wirst Du Dich mit ständig neuen und herausfordernden Situationen auseinandersetzen und hast dabei alle Freiheiten, Deine Karriere selbst in die Hand zu nehmen. In dem auf zwei Jahre ausgelegtem Future Leaders Program lernst Du unser Geschäft kennen und rotierst zwischen verschiedenen Bereichen in Marketing, Sales sowie eCommerce.

Wann?  ab 15.09.2022 

Du passt gut ins Team, wenn Du…
… kein Ziel zu weit für Dich ist. Herausforderungen auf Deinem Weg löst Du als Teil eines agilen, diversen und multinationalen Teams. 
… Du lieber machst, statt zu reden. Entscheidungen triffst Du auf Basis einer analytischen und lösungsorientierte Denkweise. Im Zweifel vertraust Du auf Deinen gesunden Pragmatismus. 
… ein Bachelor- oder Mastertitel Deine Studienlaufbahn ziert und Du über erste Berufserfahrung verfügst. Deine Meinung teilst Du in fließendem Deutsch und Englisch, jede weitere Sprache ist von Vorteil.

Du wirst uns lieben, weil ...
… eigenständiges Arbeiten Spaß macht und Du bei uns von den Besten lernst: der direkte Kontakt zur Geschäftsleitung sorgt für eine steile Lernkurve. 
… Nachhaltigkeit Teil unserer Kultur ist: Tag für Tag entwickeln wir innovative Lösungen, die uns gesünder und glücklicher leben lassen. Der schonende Einsatz begrenzter Ressourcen ist uns ein Selbstverständnis. 
… Heidelberg weltweit bekannt für seine hohe Lebensqualität ist. Zusätzlich sorgen unser modernes Office und zahlreiche Extraleistungen für einen geschmeidigen Einstieg.
Hier findest Du Einblicke in die aktuellen Projekte unserer Trainees sowie mehr Informationen zum Future Leader Program bei Reckitt: https://www.reckitt.com/de/karriere/future-leaders-programme/

Du liebst Konsumgüter und hast Lust auf die spannendste Karriere Deines Lebens? Dann bewirb Dich jetzt! Bei Fragen wende Dich gerne über karriere@rb.com an uns.
Wir freuen uns auf Deine Bewerbung!
Equality
All qualified applicants will receive consideration for employment without regard to age, disability or medical condition; colour, ethnicity, race, citizenship, and national origin; religion; pregnancy, family status and caring responsibilities; sexual orientation; sex, gender identity, gender expression, and transgender identity; protected veteran status; size or any other basis protected by appropriate law.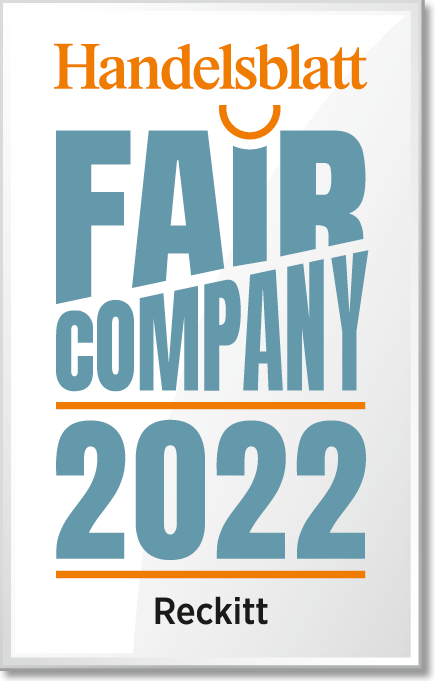 Apply now »