Junior Key Account Manager (m/f/d), Health
Unsere Marken bewegen Märkte. Hinter den Marken stehen starke Persönlichkeiten mit einem klaren Ziel: das Leben von Millionen von Menschen gesünder und glücklicher zu gestalten. Jetzt suchen wir Verstärkung. Bereit für die spannendste Karriere Deines Lebens?
Junior Key Account Manager (m/f/d), Health
Heidelberg, Baden-Wuerttemberg
Competitive Salary & excellent benefits package 
Als  Junior Key Account Manager (m/f/d), Health unterstützt Du dein Team dabei, die Kundenstrategie für einen nationalen Schlüsselkunden voranzutreiben und die vom Sales Leadership Team festgelegten Geschäftswachstumspläne voranzutreiben und umzusetzen. In Unterstützung des (Senior) Key Account Managers sind deine Aufgaben wie folgt:
Umsetzung der 4P-Strategien (Product, Promotion, Placement, Price) bei bestimmten Fokuskunden
Analyse von 4P-Lücken zur Identifizierung von Chancen und Risiken
Entwicklung der Umsetzung von kundenspezifischen Maßnahmen/Projekten
Strategische Entwicklung kundenindividueller Best-Practice-Modelle durch Wirksamkeitsanalysen von Werbung, Preisgestaltung, Regalplatzierung und Sortimentsgestaltung für bestimmte Fokuskunden
Vorbereitung von Präsentationen in Zusammenarbeit mit anderen Abteilungen
Erstellen von Verkaufsanalysen und Sammeln und Bearbeiten von Marktdaten
Vor- und Nachbereitung von Kundengesprächen oder Jahresabschlussgesprächen
Aktionsauswertungen und -analysen, Preisanalysen, Update-Informationen (Promo-Tracking, Promos, Listings)
Du wirst uns lieben, weil ... 
… unsere Produkte und Marken eine einzigartige Plattform für den gemeinsamen Erfolg sind: mit unserer neuen Nachhaltigkeitsstrategie bieten wir langfristig substanziellen Mehrwert.
… partnerschaftliches Arbeiten unsere Devise ist: flache Hierarchien, offene Türen und unsere "bewegen-statt-reden-Mentalität" sorgen für die richtige Grundstimmung.
… Du Heidelberg lieben wirst: unser modernes Office und zahlreiche attraktive Benefits, wie z.B. flexible Arbeitszeiten und Aktien-Sparpläne warten auf Dich.
Du passt gut ins Team, wenn …
… Du weißt, wie der Hase läuft: dank mindestens 1 Jahre einschlägiger Erfahrung im Key Account / Category Management, Trade Marketing, Außendienst oder Marketing in der FMCG oder Retail Industrie macht Dir niemand ein X für ein U vor.
… Daten-Bingo Deine Passion ist: im versierten Umgang und der professionellen Analyse von Marktforschungsdaten und Bilanzen mithilfe von Excel bist Du ein Großmeister.
… Du den großen Auftritt liebst: erfolgreiches Präsentieren in Deutsch und Englisch, auch auf Vorstandsebene, ist Deine leichteste Übung.
… Deine Uni-Karriere ebenfalls erfolgreich war: ein betriebswirtschaftliches Studium mit Schwerpunkt Vertrieb/Handel oder vergleichbar mit gutem Abschluss hast Du in der Tasche.
Du liebst unsere Marken und hast Lust auf die spannendste Karriere Deines Lebens? Dann bewirb Dich jetzt online über www.reckitt.com/karriere. Bei Fragen wende Dich gerne über karriere@rb.com an uns. Willkommen im Team!
​
Equality
All qualified applicants will receive consideration for employment without regard to age, disability or medical condition; colour, ethnicity, race, citizenship, and national origin; religion; pregnancy, family status and caring responsibilities; sexual orientation; sex, gender identity, gender expression, and transgender identity; protected veteran status; size or any other basis protected by appropriate law.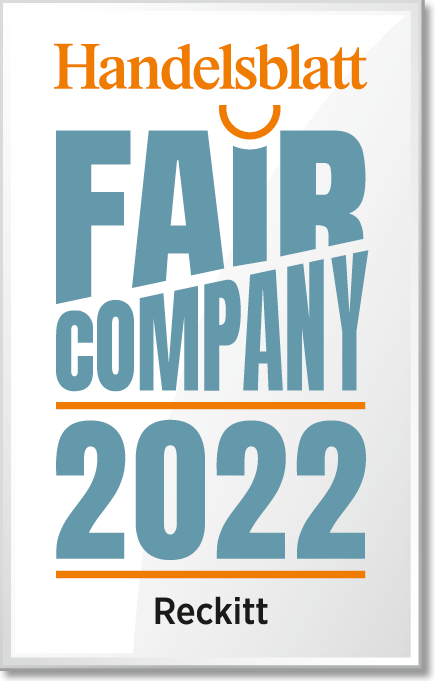 Job Segment: Medical, Healthcare
Apply now »