R&D Industrial Placement Student (m/f/d) - Hygiene
Want a role with real-world impact? As an R&D Industrial Placement Student (m/f/d) - Hygiene at Reckitt, you'll have the freedom to help develop products that touch millions of lives. Worldwide.
 R&D Industrial Placement Student (m/f/d) - Hygiene
Heidelberg, Baden-Wuerttemberg
Competitive Salary & excellent benefits package 

Responsibilities:
Undertake research on a topic that involves new and existing product development, product innovation and test method development. This can be done through lab experiments and/or pilot trials
Plan and carry out relevant experiments with the agreement of your industrial supervisor to advance your research project
Communicate progress clearly and regularly with industrial supervisor
Prepare samples for performance test, analytics, and shipping
Submit suggestions for improvements of products, methods, or laboratory management
Qualifications:
Final/Penultimate year student in Chemistry, Chemical Engineering, or any related discipline, averaging 2.1 or above
Results-orientated with the ability to work independently
Strong interpersonal skills that foster an environment of teamwork and achievement
Demonstrate flexibility, adapting quickly to changing circumstances
High level of proactivity, assertiveness, persuasiveness and creativity
               
Placement details:
Application deadline: 30th November 2022
Competitive salary & excellent benefits package
Start date: 1st September 2023 (flexible)
12-month placement
We'll support you in your relocation
You'll succeed because…
…you're a creative and tenacious problem solver. You've worked in laboratories before so you're familiar with the methods and techniques used. Degree qualified in a scientific discipline, you're also able to communicate effectively with colleagues from different fields. Independently minded, you've a healthy curiosity and will actively seek out additional information when you need it.

You'll love it because…
…you'll get to make an impact like never before. You'll be responsible for your own projects - we can't wait to listen to your ideas. The products you help us get out there will make people's lives better. Our iconic brands will provide an incredible platform for you. And our dynamic, ownership-driven culture will help bring the very best out of you, every day.
In case of questions, please contact us at karriere@rb.com, naming the job title, you applied for. We are looking forward to your applications!
Equality
In Return Reckitt offer very competitive salaries with excellent benefits and the chance to progress your career within a truly global organisation.
Reckitt is an equal opportunity employer and all qualified applicants will receive consideration for employment without regard to race, colour, religion, sex, national origin, disability status, protected veteran status, or any other basis protected by appropriate law. All hiring decisions are made based on merit, competence and business need.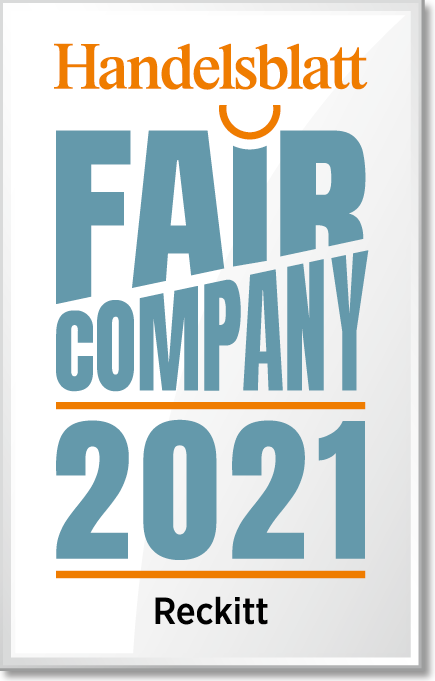 Apply now »