R&D Senior Associate Innovation (m/f/d), Hygiene
Want a role with real-world impact? As an R&D Senior Associate Innovation (m/f/d), Hygiene at Reckitt, you'll have the freedom to help develop products that touch millions of lives. Worldwide. 
R&D Senior Associate Innovation (m/f/d), Hygiene
Heidelberg, Baden-Wuerttemberg
Competitive Salary & excellent benefits package 
This position at the heart of global development team is a fast paced and dynamic role to manage as well as implement assigned projects and activities with an increased level of technical complexity and exposure to technical as well as business partners. In this role the ability of being a leader and to develop others is key, as well as an excellent technical knowledge.  As a R&D Senior Associate Innovation (m/f/d), Hygiene will:
 
Lead almost independently raw material, format and product innovation.
Work on next generation products and 'new news' opportunities for existing products.
Be accountable for liaison with appropriate technical development, business and supply chain personnel to ensure completion of all activities to plan & successful handover to Supply and launch to the market for the assigned projects.
Develop a working commercial knowledge and a network with the Category Team(s) to understand their needs, thus ensuring proper response to business needs.
Be responsible for ensuring that all new development activities on assigned projects conforms to legislative, Health and Safety and Environmental requirements, including the adoption and tracking of laboratory best practices.
Analyse competitor patents, prepare patent applications with a patent attorney and provide the technical support in patent opposition proceedings.
Ensure QMS compliance for partner and contract management.
Scout for new technologies, partners, and opportunities at industry conferences
You'll succeed because… 
…you're a creative and tenacious problem solver. Moreover, you have:
a Master's degree in chemistry, PhD preferred, and at least 3 years of professional experience in the research & development of an FMCG company - at least 2 years of people management experience.
Good understanding of the FMCG market, consumers & competition.
Ability to turn functioning prototypes into finished products/systems/methods.
Deep understanding of consumer needs and insights, underpinning product development and delivery, resulting in exciting and relevant new ideas and opportunities
Good project management skills that can be applied in a technology delivery environment a proven track record of results. 
Technical expertise and curiosity with the ability to develop. 
Experience of working with external 3rd parties (e.g., suppliers)
last but not least - experience with Quality Management System related to product development as a plus.
You'll love it because… 
…you'll get to make an impact like never before. You'll be responsible for your own projects - we can't wait to listen to your ideas. The products you help us get out there will make people's lives better. Our iconic brands will provide an incredible platform for you. And our dynamic, ownership-driven culture will help bring the very best out of you, every day. 
Do you love our brands and want the most exciting career of your life? Then apply online now at www.reckitt.com/karriere. If you have any questions, please contact us at karriere@reckitt.com.
Equality
All qualified applicants will receive consideration for employment without regard to age, disability or medical condition; colour, ethnicity, race, citizenship, and national origin; religion; pregnancy, family status and caring responsibilities; sexual orientation; sex, gender identity, gender expression, and transgender identity; protected veteran status; size or any other basis protected by appropriate law.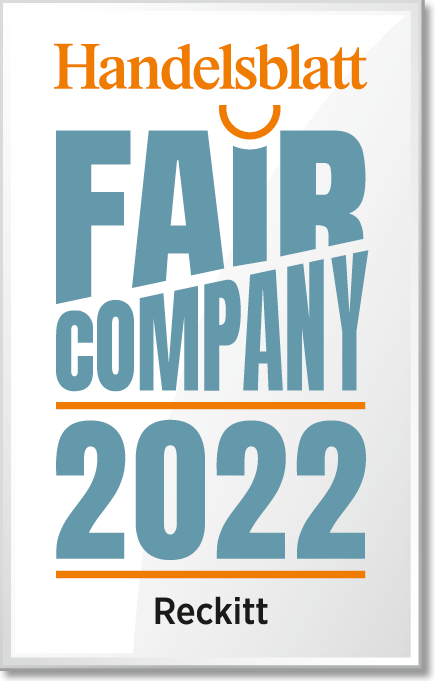 Apply now »