Master Data & NPI Project Specialist (m/f/d), Health
​
Want to make your mark in supply chain? As our Master Data & NPI Project Specialist (m/f/d), Health, you'll have the freedom to gain hands-on experience with some of the world's most leading consumer products.

Master Data & NPI Project Specialist (m/f/d), Health
Heidelberg, Baden-Wuerttemberg 
Competitive Salary & excellent benefits package

With complete involvement from the first day, you'll be fully included as part our team – bringing household name products to millions of customers worldwide. You'll take responsibility for projects from the outset, gaining new skills and experience. Projects will vary but may be within planning, service delivery, manufacturing or logistics. The focus will be on 'learning through doing' but with the support and mentoring of our experienced team. You'll have overall responsibility for the entire end-to-end supply project management for an assigned portfolio of brands. Other tasks are:
Customer, supplier, material master data management for an assigned portfolio of brands
Partial technical focus within the scope of the task area
Support in the creation of data keys
Tracking milestones etc. for smaller groups or supporting themanagers with the larger projects 
Responsible for monitoring the quality of embellishment activities 
Focus on process improvement across Embellishment
Master data management (bill of material maintenance, price entry, source list, SKU setup)
Creation and compilation of unit lists and ensuring correct usage of packing instructions
Responsible for end-to-end EMB SKU development including master data management process (bill of material maintenance, price entry, source list, SKU setup)
First point of contact for internal and external stakeholder on all topics related to new embellishment SKU development and rework
Developing a "Critical Path Schedule" for each (implementation) project together with stakeholders
Maintaining and being contact for external customer databases

You'll succeed because ...
... you have an entrepreneurial spirit. You've a strong academic background. You're ambitious and motivated, hungry to take on responsibility in a fast-paced and dynamic environment. You're also action-oriented, a pragmatic problem solver and share our drive to succeed. Even when faced with obstacles.You have very good IT skills (MS Office, preferably SAP) and are a strong communicator and teamplayer. You may have first FMCG experience and you are business fluent in English and have B1 German knowledge.

You'll love it because ...
... our products and brands are a unique platform for shared success: with our new sustainability strategy, we offer substantial long-term added value.
... you'll get to make an impact like never before. You'll be responsible for your own projects - we can't wait to hear your ideas. The products you help us get out there will make people's lives better. Our iconic brands will provide an incredible platform for you. And our dynamic, ownership-driven culture will help bring the very best out of you, every day.
... working in partnership is our motto: flat hierarchies, fast decision making, open doors and our freedom to succeed mentality ensure the right atmosphere.
... you'll enjoy Heidelberg: our modern office and numerous attractive benefits, such as flexible working hours, job ticket and share savings plans, are waiting for you.​
​If you have any questions, please contact us at careers_dach_nordics@reckitt.com.
Equality
At Reckitt, we recognise that in real life, great people don't always 'tick all the boxes'. That's why we hire for potential as well as experience. Even if you don't meet every point on the job description, if this role and our company feels like a good fit for you, we still want to hear from you. Come and join a team whose purpose is to protect, heal and nurture in the relentless pursuit of a cleaner and healthier world.
All qualified applicants to Reckitt will receive consideration for employment without regard to age, disability or medical condition; colour, ethnicity, race, citizenship, and national origin; religion, faith; pregnancy, family status and caring responsibilities; sexual orientation; sex, gender identity, gender expression, and transgender identity; protected veteran status; size or any other basis protected by appropriate law.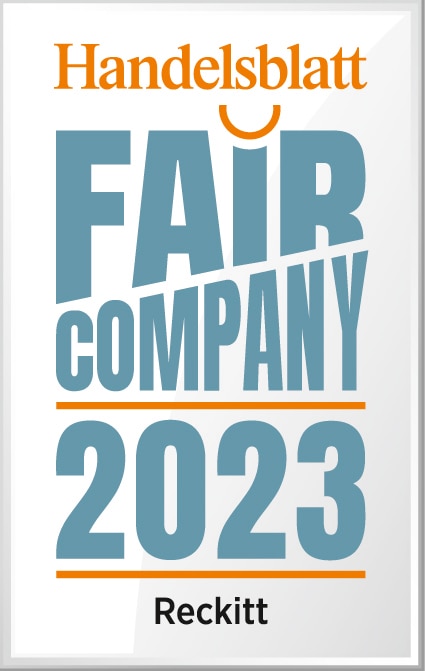 Jetzt bewerben »