Senior R&D Associate - Global Safety Assurance (m/f/d), Hygiene
Want to see your expertise recognised? As a Senior R&D Associate - Global Safety Assurance (m/f/d), Hygiene you'll have the freedom to influence decisions that shape our next generation of leading brands.
Senior R&D Associate - Global Safety Assurance (m/f/d), Hygiene
Heidelberg, Baden-Wuerttemberg
Competitive Salary & excellent benefits package 
This role is based in our Hygiene Business Unit, providing safety expertise to ensure the Safety and Risk Management of Reckitt hygiene products. The role serves as a technical excellence point contact for project teams and brands, mainly Finish but also Vanish or Lysol, ensuring products are safely developed and labelled correctly, providing documentation in a timely manner to support global market launches. 
This role will involve conducting safety assessments and product label classification, providing effective and timely communication of key safety issues, scientific information and risk assessments related to Reckitt's Automatic Dish Wash (ADW) and fabric products to key stakeholders.
Deliver effective communication of safety risks to key stakeholders and collaborate on strategies to mitigate them. Good communication skills in English language, in both verbal and written forms are required, further business acumen and interpersonal skills.
Provide technical leadership and support to the Manager to a small, dedicated team of Global Safety Assurance (GSA) experts.
Contribute within a technical team responsible for conducting human health risk assessments and hazard evaluations for Reckitt ADW and Fabric products in accordance with Reckitt policies and guidelines. 
Preparation and review of label classification and risk assessments to ensure Reckitt products are used as intended.
Ensure products are properly categorised per regulatory requirements, and appropriate safety documentation are generated to support innovations.
Represent Reckitt interests in the area of product safety in industry associations and other organisations as directed.
Where necessary and in compliance with Reckitt policies, manage toxicology and safety tests required to support product safety or registration.
You'll succeed because ...
... you have minimum a MSc. in Toxicology and/or a related discipline like Chemistry with at least 3 years of relevant regulatory and toxicology experience.
…you are an expert in risk and safety assessment of consumer products and have the ability to analyse and interpret scientific literature and toxicological data and document within a formal risk assessment .
… have a sound understanding of consumer needs and insights as well as competitors in FMCG industry.
… you have the expertise in safety-relevant regulatory requirements, legislation and policy for consumer products in the EU, US and/or other global regions/countries and have the knowledge of hazard classification following CLP, UN-GHS.
... you are proficient in English, German skills are an advantage.
… last but not least, you are self-motivated with strong initiative and drive and able to ensure the delivering of consistent and high-quality safety assessments to support the safety of Reckitt products.
You'll love it because ...
... you'll get to make an impact like never before. You'll be responsible for your own projects - we can't wait to listen to your ideas. The products you help us get out there will make people's lives better. Our iconic brands will provide an incredible platform for you. And our dynamic, ownership-driven culture will help bring the very best out of you, every day.
Do you love our brands and are you looking for the most exciting career of your life? Then apply online now at www.rb.com/karriere. If you have any questions, please contact us at karriere@rb.com. Welcome to the team!
Equality
All qualified applicants will receive consideration for employment without regard to age, disability or medical condition; colour, ethnicity, race, citizenship, and national origin; religion; pregnancy, family status and caring responsibilities; sexual orientation; sex, gender identity, gender expression, and transgender identity; protected veteran status; size or any other basis protected by appropriate law.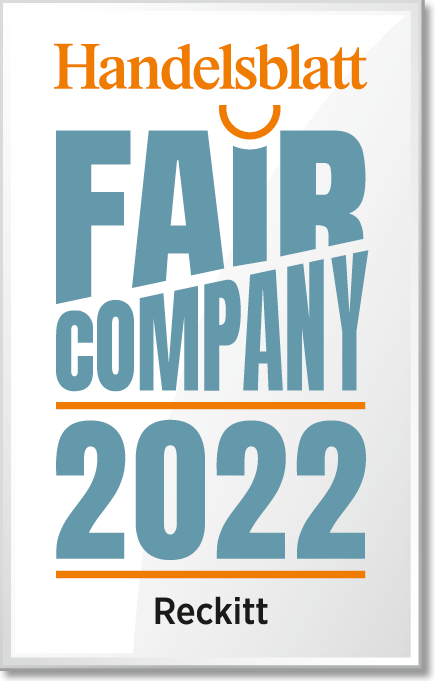 Job Segment: Medical, Healthcare
Apply now »