Praktikum - Brand Marketing (m/f/d)
Willst du deine Ideen realisieren? Das Praktikum - Brand Marketing (m/f/d)   gibt dir die beste Möglichkeit einen Einblick in den Alltag eines Konsumgüterunternehmens zu erhalten und durch eigenverantwortliche Aufgaben spannende Erfahrungen zu machen. Du gestaltest aktiv unsere Powerbrands wie Veet, Durex, Finish, Sagrotan oder Air Wick mit.
Praktikum - Brand Marketing (m/f/d) 
Heidelberg , Baden-Wuerttemberg 
Wann? nach Absprache, mindestens 5-6 Monate
 
Du passt gut ins Team, wenn du…
…ein flexibler Denker mit schneller Auffassungsgabe bist und dich eine hohe Eigenmotivation, Teamfähigkeit und Unternehmergeist auszeichnet.  Du besitzt analytische Fähigkeiten, sehr gute Excel Kenntnisse sowie fließende Kenntnisse in Englisch und Deutsch. Du bist begeistert von der Konsumgüterbranche, in der du idealerweise schon Erfahrung gesammelt hast. Außerdem bist du mindestens im vierten Semester eines Studiums der Volks- oder Betriebswirtschaftslehre oder ähnlichen Studienganges.
Du wirst uns lieben, weil...
...du bei Reckitt wirklich etwas bewegen kannst. Unsere Produkte verbessern das Leben der Menschen. Du wirst einen aktiven Teil dazu beitragen. Unsere dynamische, eigenverantwortliche Kultur hilft dir, jeden Tag das Beste aus deiner Arbeit zu schöpfen.
Deine Aufgaben sind:
Unterstützung des Brand Management Teams in allen Marektingaktivitäten 
Übernahme von eigenen Pojekten in verschiedenen Bereichen, z.B. in der Vorbereitung von Produkteinführungen
Marktanalysen zur aktuellen Entwicklung der Marken (u.a. mit AC Nieslen) 
Konzeption und Umsetzung von kreativen Projekten, z.B. zu TV Spots, Gestaltung der Website
Konkurrenzanalysen
Zusammenarbeit mit Agenturen zur Umsetzung von Ideen
Bei Fragen wende dich gerne über careers_DACH_Nordics@reckitt.com an uns.
At Reckitt, we recognise that in real life, great people don't always 'tick all the boxes'. That's why we hire for potential as well as experience. Even if you don't meet every point on the job description, if this role and our company feels like a good fit for you, we still want to hear from you. Come and join a team whose purpose is to protect, heal and nurture in the relentless pursuit of a cleaner and healthier world.
All qualified applicants to Reckitt will receive consideration for employment without regard to age, disability or medical condition; colour, ethnicity, race, citizenship, and national origin; religion, faith; pregnancy, family status and caring responsibilities; sexual orientation; sex, gender identity, gender expression, and transgender identity; protected veteran status; size or any other basis protected by appropriate law.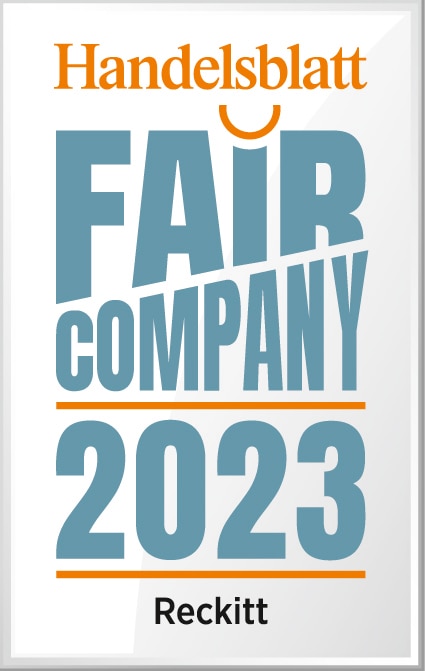 Apply now »